Airliner's Language Glossar
Here you can find a glossar of those words used by airliners.
Many of them belong to PAN AM's legendary heritage as they have been inaugurated by PAN AM World Airways:
A -, B -, C -, D - Check: Maintance intervalls for a/c after completing a certain number of flights.
Aircrew, also flight crew or cockpit crew, are personnel who operate an aircraft while in flight. The composition of a flight's crew depends on the type of aircraft, plus the duration and purpose of the flight. Nowadays flight crew usually include 2 pilots even on widebodied aircraft. Just some years ago, like e.g. with the Boeing 727s tere have been 3 crew members. Before often 5 or more, e.g. on Soviet-Russian aircraft like on board of some Antonovs including Flight Engineer and Navigator.
A/C - abbreviation for aircraft (airplane).
Allied airlines/allied status -
Anti-Icing -
"APU" - Auxiliary Power Unit
ATC - Air Traffic Control: when a PAN AM started flying there have been hardly any other airlines flying. But at a certain point/time more and more airlines started flying to destinations where PAN AM was already flying to. Due to this fact, PAN AM inaugurated ATC to controll the air traffic and ensure safe take off and touch down.
Atlantic Flights - Pan Am under its legendary pilot Charles Lindbergh laid the technical and navigational ground for the first scheduled Trans-Atlantic Passenger Flights already in the 1930s. Pan Am flew all six continents with regular passenger flights.
Base(s) -
Barcart - PAN AM's cabin cart for beverage service (english trolley)
Berlin corridors -
Bid line -
"Blue ball" - PAN AM's blue logo from the 1960s on, the most known brand name of its time after Coca Cola.
Briefing / Briefing room -
Bulkhead -
Business class - PAN AM inaugurated its Business class as Clipper Class ("C") . Please see "Clipper Class" and "C".
"C" - please see Clipper Class
Cabin Logbook -
Captain - the pilot designated as the Pilot-in-Command (PIC), and highest-ranking member of a flight crew.
Clipper Class - PAN AM's famous business class. PAN AM inaugurated the "C" as abbreviation for this class which all other airlines still also use as abbreviation for their business class.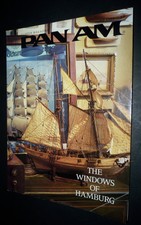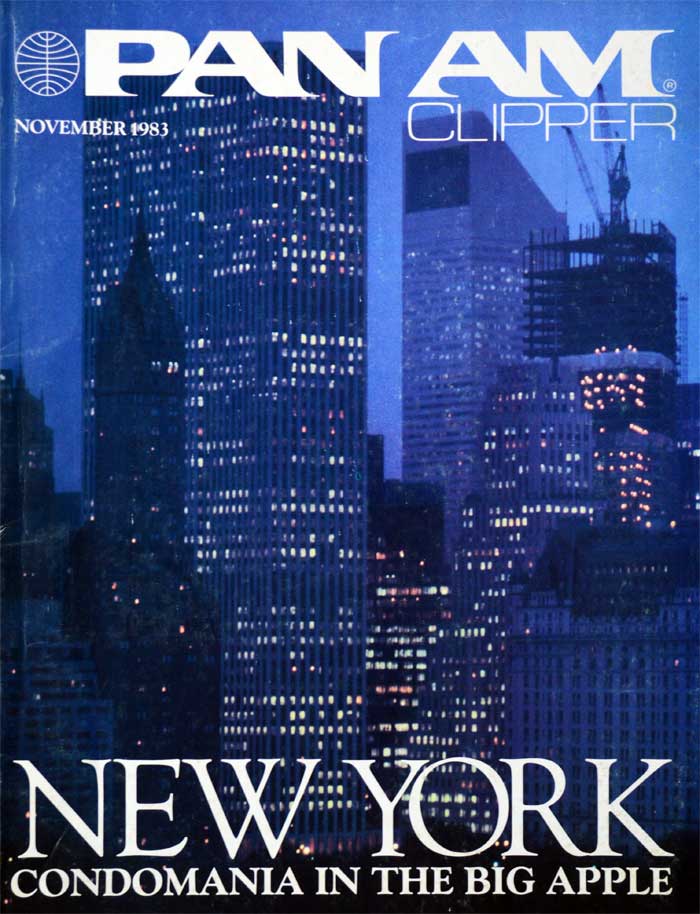 Clipper Magazine - was a monthly high quality periodical on board of PAN AM's flights (in-flight magazine), and displayed (for free) in each room for guests of PAN AM's InterContinental Hotel (even after its sale) until 1991. There was a special edition in German language for the Internal German Service (I.G.S.) until 1990.
Coffee maker -
Configuration - see also South America configuration.
Crew lounge - Cockpit and cabin crew lounge
"Demo" - cabin crew onboard showing passengers onboard the safety features of the aircraft type used, done by flight attendants or by showing a safety demonstration video.
Direct flights - see also Nonstop flights
Division (s) -
"Early Bird" -
Economy Class ("Y") - Pan Am at Juan Trippe's direction 'invented' economy class, but that was right after WWII. The flying boats all had several cabins, some more luxurious than others, some with lay flat seats to sleep in others with berths, but all were considered more than coach or ecy. When PAA invented Economy Class (ECY/Y), so many airlines objected, IATA banned Pan Am from London for almost ten years! Finally all relented and today we have what we have aft the 1st Class curtain!
PAN AM inaugurated the Economy Class to enable more people to fly on a more economical basis. This led to cheaper prices and many more could afford to get to places they never had imagined to go to before. All other nowadays airlines copied this and since offer their Tourist or Economy class.
Extention belts -
F/A - abbreviation for flight attendant
First Class - PAN AM's First class was famous for its services including...
First Class kit -
Frequent Flyer Program - PAN AM inaugurated the first worldwide frequent flyer program called PAN AM World Pass, in Berlin's Internal German Service (I.G.S.) PAN AM had a special Berlin frequent flyer program called PAN AM Berlin Pass.
F/O - First Officer (co-pilot)
Galley -
Ground Direction Finding – The development of navigational systems for aviation in the 1930s PAN AM proved its historical contribution. Ground Based Direction Finding [D/F] is similar to the aircraft based system but more powerful as bigger and more powerful installations were possible. The aircrew, usually  the radio operator, held the Morse key in transmit mode for a minute while the ground operator took a bearing on the signal. If two ground stations were used, the point at which the bearings intersected produced a nav fix.
In the 1930's the onboard aircraft transmitting equipment included a 250 ft trailing aerial that was unwound after takeoff and wound in before landing.
Marconi was an inventor and founder of his company after whom his navigational and transmitting system was named. PAN AM adjusted and improved it for its aviational use as in those days no other airline was offeringflight around the world as many and as long as PAN AM.
These ground based D/F stations were still listed on pilot charts up to at least the late 1950's. The DF code in the airport's text box indicated the D/F facility.
The Marconi Adcock D/F installation as used by Pan Am at their Pacific Island bases had a range of up to 1,500 miles over the ocean. These Pan Am bases were established in 1935. [John G. Borger]
The Pan Am Pacific bases were Honolulu, Midway Island, Wake Island, Guam, and Manila for the Asian route. The South Pacific route from Honolulu was Canton Island then Noumea to Auckland.  
The Auckland Adcock base was called Musick Point after Captain Edwin Musick, the pioneering Pan Am pilot lost when the Pan Am S-42B "Samoan Clipper" disappeared January 1938. [Gwynn-Jones P.215] [Parnell / Boughton P.122]
Hangar -
Head set aboard - PAN AM used compatible head sets so that they could be used offboard as well, including the "blue ball" at the sides. PAN AM designers took care to ensure its premium quality corporate identity for PAN AM's service items over the decades. The reason why you still can see the atractivity by the demand for PAN AM bags, etc. even nowadays.
Left image: PAN AM's "Blue Ball" at each side of the head set
Hub - Airline hubs or hub airports are used by one or more airlines to concentrate passenger traffic and flight operations at a given airport. They serve as transfer (or stop-over) points to get passengers to their final destination.
Technical hub - PAN AM used a lot of technical hubs around the world to ensure maintenance for their aircraft. PAN AM's main hub was at New York's JFK airport, see also WorldPort.
In-Flight Service Handbook (IFSH) -
I.G.S. - Internal German Service: get to know more about PAN AM amazing history in Germany after World War II until 1991 here...
Jumbo jet - PAN AM's legendary founder and CEO Juan T. Trippe orderd the Boeing 747 as launching customer. Boeing developed the 747 based on PAN AM aim/need for much larger aircraft operations than ever built. PAN AM had the largest Boeing 747 jet fleet worldwide.
FAA - Federal Aviation Adminstration:
FAR - Federal Air Regulations:
Lavatory -
Launching customer -
Long haul flights -
Meals onboard -
Medical kit -
Mini-hub - like at Frankfurt's airport, Germany
MCO -
Mock up -
Narrowbodied aircraft -
Nonstop flights -  747 SP
Overhead compartments -
"PA" - Public address system: oboard of the airplane. The PA systems differ from aircraft to aircraft according to the type. How to use this system was trained during PAN AM's flight attendant training course.
PAX - abbreviation for Passenger(s)
Pilot uniform - inaugurated by PAN AM
Purser -
Recurrent training - PAN AM's training for refreshing and updating skill of its personnel e.g. for flight attendants safety and first aid onboard.
Reverse -
Short haul flights  -
S.I.L.  - Special Information Log: PAN AM gave its crews and groung personnel an overview of passengers in a listed form by its worldwide first airline computer system PANAMAC (since 1962, department/subsidiary sold in 1988). It showed all passenger names, handicapped with special transportation, U.M.s, frequent flyers, special guests, celebrities like well known pop stars, actors, politicians, Sheikhs etc. flying with PAN AM and more so that the crew could prepare for the flight during its crew briefing and when needed during flight e.g. for service when guests on board had ordered special meals. Other airlines followed PAN AM's model role. For example German aircarrier Lufthansa called its information log P.I.L. (Passenger information log) later.
South America configuration -
"SP" -  Special Perfomance: Boeing 747 SP was ordered by PAN AM and developed for PAN AM to operate long haul Nonstop flights like New York - Tokyo.
Steward/stewardess - also Flight Attendants F/A, cabin crew or cabin staff. In 1929 Pan Am hired the world's first international steward. The very first Pan Am flight attendants were men, and keeping with the companies maritime background with its flying boats Pan Am called them Stewards. A couple of years later when ladies were added to the team, the term Stewardess came into general aviation use.
PAN AM allowed also stewardesses onboard as first airline. Before female personnel has not been allowed to work aboard as cabin crew. The expression steward/ess has been changed to flight attendant since the 1980s to enhance the main purpose of the cabin staff - for safety first.
SUBLO - SUBject to LOad, PAN AM offered its emploxees very generous travel benefits. If you were a PANAMer flying to your desired e.g. holiday destination you were usually listed before boarding and could get onboard when passenger seat was not sold (Standby).
Special meals - not the regular served meals onboard,  like Kosher, vegetarian, hallal, diabetic etc. which PAN AM offered free of charge, hot meals and cold meals.
Split -
Transit time -
Travel benefits - In fact no ther airline had better allowances for its employees to flying around the world than PAN AM at its time.
"Thumb up" - showing the bus driver/ground personnel all passengers have departed and the bus can leave.
"U.M." - Unaccompanied Minor: Child or youngster flying "solo". U.M.s received a sort of bag to be hung in front displaying "Unaccompanied Minor"  in bold letters  so that they could be recognized by PAN AM ground and cabin staff.
"Unexpected overnight" -
Welcome drink -
Widebodied aircraft -
WorldPort - PAN AM's main port to the world, built in the 1960s it was the state of the art airport and terminal, influincing the planning and the design of many other airports and terminals built worldwide like Berlin's Tegel airport (TXL in the 1960s, in use since 1974/5 when PAN AM started flying from/to there instead of Tempelhof airport THF).