The Project for All PanAmers.
PanAmers for PanAmers
The World's Most Experienced Airline's People:
The PAN AM People.
 Collaboration and Partners
 We collaborate and support the efforts of the PAN AM Historical Foundation and PAN AM Museum to preserve PAN AM's and its People's unique legacy.

Ed Trippe, Chairman of the Pan Am Historical Foundation in his interview
Get your own PAN AM World DocuProject's Poster
for Your next regional reunion as download here now...
The Project's Focus On
PAN AM'S PEOPLE & BASES WORLDWIDE
Out of more than 120 destinations all over the world.
PAN AM Divisions, Bases & Hubs
A SHORT PREVIEW ABOUT PAN AM WORLDWIDE
PAN AM operated several bases within the U.S. and worldwide with local crews.
This was very unique at the time when it started like in Berlin (1950), Honolulu (1955), India, Moscow, Nairobi, Turkey, Warsaw etc.
 PAN AM's latest worldwide Air System
 The thrilling history in this regard about the PAN AM people with their bases is still not well researched and hardly documented. That is exactly our goal with this worldwide DocuProject. The PAN AM People and PAN AM bases worldwide.
Please read more here...
Amazing Historical Research
The Staff: The PAN AM People.
The bases for PAN AM's slogan "The World's most experienced Airline" was due to "The World's most experienced Airline's People: The PAN AM People."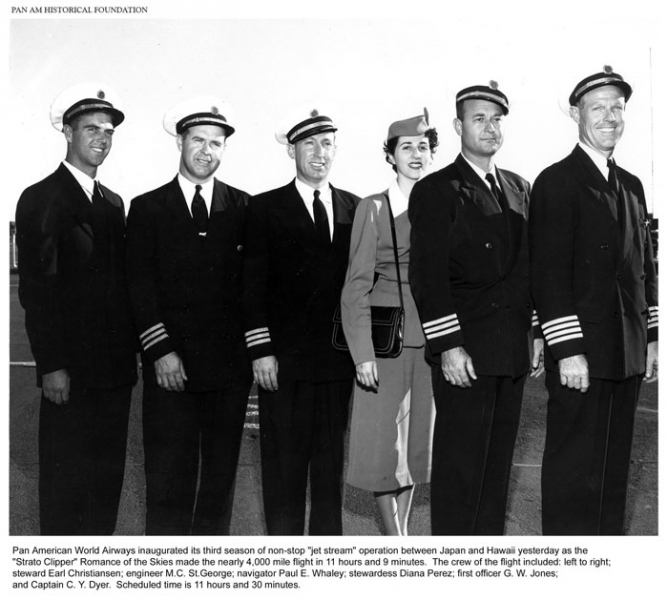 The PAN AM DocuProject's focus is to know, preserve, and share the legacy of the PAN AM People.
Here you can get more about the PAN AM People: The PAN AM People Portraits.
Please read more here...
"I'm sure that everyone involved in aviation has a host of stories that they could tell about their experiences, but I will always take particular pride in my 19 years at PAN AM and the stories that members of the PAN AM family relate when they get together.  To me, PAN AM was a truly special place and time populated by special people doing amazing things."
Bill Lange, after 19 years with PAN AM System Control in New York
 After dominating the airline industrie over decades: Why did Pan Am's decline begin?
Know more about this issue and historical facts here...
The PAN AM family & corporate identity
How did PAN AM create...
... such a unique family feeling despite being such a big air carrier and
... such a unique corporate identity with their employees worldwide and as brand?
Why did those working with PAN AM felt like being part of the PAN AM family?
... over decades and generations of employees....
Know more about how PAN AM hired, trained and developed its staff worldwide now...
Unknown stories: Pan Am's flights under extraordinary circumstances
Pan Am as THE global airline was present all over the worl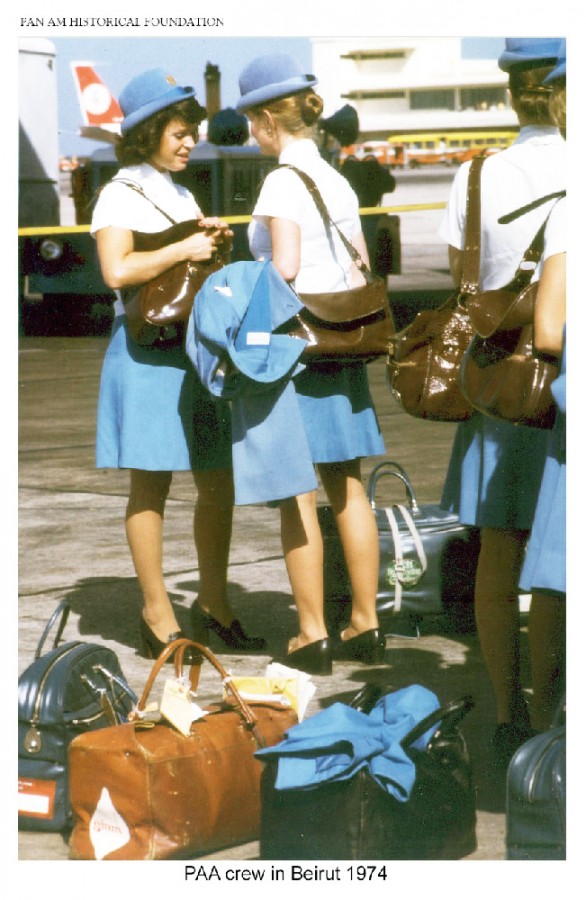 d. Pan Am crews had the most experience to operate where others could and would never. Pan Am's history regarding extraordinary flights is long and what Pan Am crews achieved is indeed amazing.
That is why Pan Am usually was the last airline flying out and the first airline starting to operate flights after or even during exceptional cicumstances and situations like after earthquakes and other natural desasters, civil unrests, and wars.
Know more unknown thrilling Pan Am's stories ready to be made movies of here...
PAN AM's CEOs Portraits
Juan T. Trippe, PAN AM Founder and CEO
and first PanAmer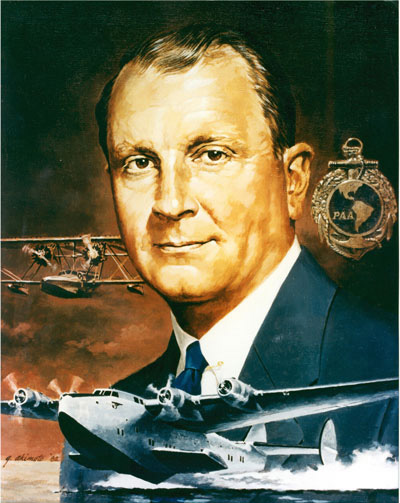 Courtesy of PAN AM Historical Foundation
About PAN AM's CEOs read more here...
PAN AM's Legendary Jet Fleet
Learn more about how PAN AM's orders
influenced the extraordinary success of Airbus & Boeing
   Know more amazing details about:
PAN AM's largest Airbus widebodied a/c fleet,
PAN AM's largest Boeing 747 fleet and
PAN AM's Clipper Cargo, the largest Cargo Airline at its time.
And where those Clippers were in use after You flew them!
Find Your PAN AM Clipper here...
PAN AM's Clipper Magazins
PAN AM's astonishing "Firsts & Lasts" Facts
ICONIC PIONEER IN AVIATION ACCOMPLISHMENTS
FOR INTERNATIONAL AVIATION UP TO NOW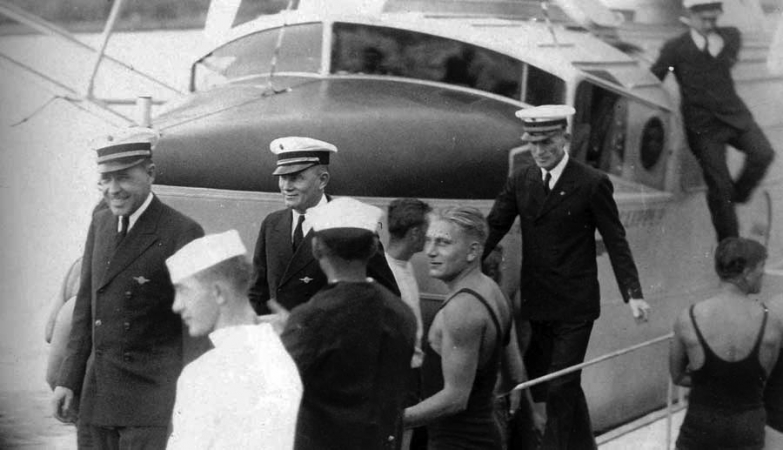 The Pan American Clipper crew arrives in Honolulu on April 17, 1935.
(Photograph, courtesy of PAN AM Historical Foundation)
PAN AM World Airways' worldwide Firsts
PAN AM invented, implemented, launched or inaugurated almost everything you expect from an airline nowadays:
The pilot's uniform, first stewardess on board, navigational system, worldwide destinations, air traffic control, service and safety standards, first transpacific flights, first transatlantic flights, first round-the world-service, first regular business (Clipper Class) and tourist class (Economy Class) first airliner's use of an own computer reservations system (PANAMAC), first using nowadays long haul & widebodied aircraft of Airbus and Boeing and more, and more....
Please read more here...
PAN AM World Airways' Worldwide Lasts
PAN AM's last flight out of London Heathrow's airport where PAN AM had its main hub and European base with local crews for decades until 1990/91.
See more amazing videos and photographs from around the world here... (soon)