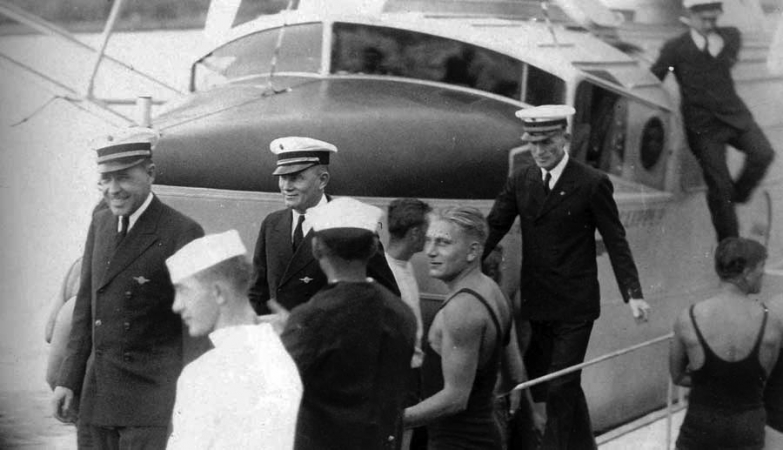 The Pan American Clipper crew arrives in Honolulu on April 17, 1935.
Above photograph, courtesy of PAN AM Historical Foundation
Left image: Original Flight Schedule (1930s)
PAN AM (in those days PAA) included its Hawaiian operations
into its worldwide air system already in the 1930s.
Pan Am Airline´s founder and ambitious leader, Juan Trippe, adopted the same gender model but slightly altered its racialized pattern. Trippe became convinced that the only way Pan Am could project its image as the tourist industry´s post- World War II dominant global carrier- and the process deflect the emerging competition in Asia by the rapidly growing Japan Airlines- was to hire Asian American women to work as stewardesses on Pan Am´s transpacific flights.
In 1955, therefore, Pan Am hired its first group of what it called its Nisei Stewardesses. Nisei is the term typically applied to U.S.-born Japanese Americans. Most, though not all, of the Pan Am women were Japanese American women raised in Hawaii. Nonetheless, all the Asian American women Trippe hired were labeled "Nisei" because, in the minds of most Americans during the 1950s, the term was identified with the patriotic Japanese American men who fought in the U.S. Army´s famous 44 2nd Regimental Combat Team during World War II. Nisei, wartime heroism, and Pan Am´s global tourist business would be merged with feminized airline cabin service.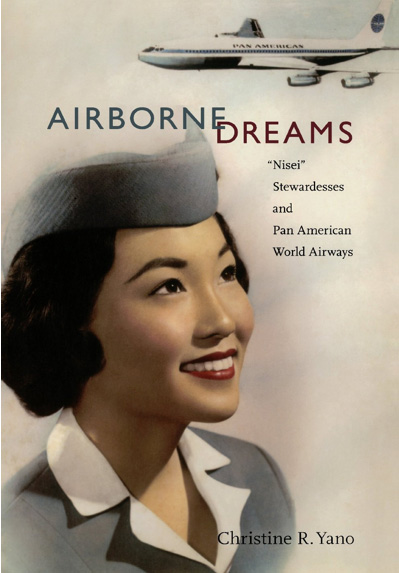 Left Image: courtesy Prof. Yano
In 1955 Pan American World Airways began recruiting Japanese American women to work as stewardesses on its Tokyo-bound flights also as part of its round-the-world flights. Based in Honolulu, these PANAMers were known as PAN AM's "Nisei".
This Clipper Magazin promoted PAN AM's Asian destination like Hawaii.
At the right corner you see "ASIA INSERT" which shows that this Clipper Magazin was offered on PAN AM's Pacific Division.
Courtesy of Heinz Müller
Courtesy Steve Priske
Steve Priske writes:
Pan Am In-Flight Service Training at HNL. This is Class 14, 1979 undergoing: emergency slide evacuation from a deflated slide (just to show that can be done as well as inflated), climbing back up the slide to clear the aircraft (only PAA required this exercise one which was used by Pan Am flight 73 crews to re-enter their hi-jacked plane and save more pax lives), open ocean ditching drills, fire fighting, slide raft portability (to show you could get your emergency equipment to another exit should yours be blocked) and survival at sea in canopied life raft.
One of the reason's for writing the book, Flying in the Pool – Adventures of a Pan Am Steward is I snuck an underwater camera into training and took hundreds of 'behind the scenes' photos of Pan Am In-Flight Service training (not allowed), all of which are in the book. Detailed in over five chapters is exactly what it was like to go through Pan Am training, much of which can be read/viewed in the sample chapters on Amazon
(click on Look Inside at this link)
https://www.amazon.com/dp/B01MTZXISN/ref=la_B01MQVDPUZ_1_1…
You can also read one of the middle of the book chapters at the Apple site
https://itunes.apple.com/…/book/flying-in-the…/id1185567914…
I recently updated Flying in the Pool, with more schematics and another 25 photographs (now over 575 in all), some to the Pan Am 103 chapters. If you already have this book on your eBookshelf, you can re-download at no charge to see the latest version which is 4.2. There is also a video description of the book one can view at this link: https://www.youtube.com/watch?v=hz4VXHEJvjs&t=151s
Steve Priske