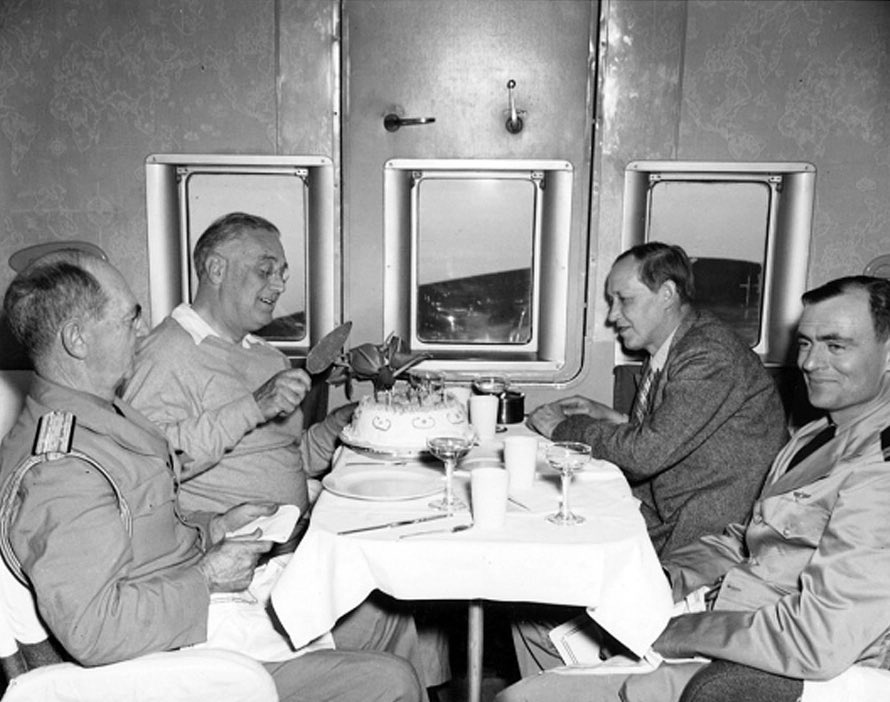 Presidents Day. Franklin D. Roosevelt was the first sitting President to fly. His choice? Pan American Airways aboard a Boeing 314 Clipper (Court. Twitter FlyPanAm).
PAN AM invented, implemented, launched or inaugurated almost everything you expect from an airline nowadays:
The pilot's uniform, first stewardess on board, navigational system, worldwide destinations, air traffic control, service and safety standards, first nowadays long haul & widebodied aircraft of Airbus and Boeing and more, and more….
An introduction
Pan American Airways began its operations on October 28, 1927, the first scheduled international flight by a United States airline.
Within three months Pan American Airways offered first passengers' flights on a daily schedule between Florida and Cuba. Initial success encouraged the acquisition of new aircraft, employees and routes — to the Caribbean islands, Mexico, Central America and South America from the USA. All "Firsts" as Pan American Airways was the pioneer. In those days Pan American Airways also inaugurated pilots uniforms, and by now PAN AM's uniform is unique due its white colored hat. Just shortly after starting, in 1928, Juan T. Trippe engaged the services of the world's most famous pilot and experienced American aviator Charles A. Lindbergh, who served as a technical advisor to Pan Am for forty-five years until 1973. Lindbergh was also instrumental in determining Pan American Airways and world's first scheduled transatlantic routes. He explored the routes by flying on his own to make sure where ditching and landing fields could be prepared to be used by Pan American Airways. Often there airports were built, some are still in use like in Sudan, where the U.N. is using the air field to fly in goods.
PAN AM Firsts – a no-ending list
Pan Am proved to be an airline of many "firsts." On November 22, 1935, the "China Clipper," a Martin flying boat designed and built to Pan Am's specifications departed from San Francisco and began a six day journey to Manila, completing the first transpacific flight. In May, 1939, the "Yankee Clipper," a Boeing B-314 also designed and built for Pan Am, completed a New York – Lisbon – Marseille route that inaugurated first transatlantic flights. In 1942 Pan Am also completed the first successful around the world flight and then regular around the world service.
The post-war period saw many technical improvements in aviation, including the introduction of the Douglas DC-4, the Lockheed Constellation, the Boeing Stratocruiser and the Douglas DC-6 and DC-7. By 1947, after only two decades of operation, Pan Am employed 19,000 people in sixty-two countries. In 1950, shortly after beginning around the world service and developing as first the concept of "economy class" passenger service, Pan American Airways changed its name to Pan American World Airways, Inc.
By this time, it was so famous that in 1964 it began accepting reservations to the moon and in 1968 Stanley Kubrick featured it in the movie "2001: A Space Odyssey." And in 1963, it built what was then the largest commercial office building in the world, the 59-story Pan Am Building (now MetLife Building) in New York City, built by famous architect Walter Gropius. The same time PAN AM built up the PAN AM Clipper Cargo, the world's largest cargo airline until the beginning of the 1980s.
Pan Am continued to influence commercial aviation service, and in 1970 the airline carried 11 million passengers almost twenty billion miles. Pan Am was the launching customer and the first airline to order the Boeing 747 jumbo jet, a plane that flew more passengers faster, higher and farther than its predecessors.
End of the Boeing 747 era in the U.S. in 2017
United Airlines (UAL) started with its 747 operated flights when it took over PAN AM's Pacific routes including the 747s, former PAN AM staff and equipment in 1985. PAN AM instructors educated United's staff as United Airlines had no experience in operating such routes. PAN AMoperated its Pacific routes from the 1930s. Since PAN AM and other airlines seized its operations to Hawaii at all or with its 747s, United had been the only airline operating 747 flights from the continental U.S. to Hawaii over the last years. It scheduled its last flight of the Boeing 747 passenger aircraft for November 7th, 2017. The flight departed from San Francisco for Honolulu. Celebrations were held before departure and after arrival.
From November 7th, the only 747 flights operated by U.S. carriers are cargo flights.
More than 90 airlines used the 747s for their flights.
Boeing's plan is to stop manufacturing the Boeing 747s in 2019. Also Airbus with its A-380 has fewer and fewer orders. Airlines go back to more Nonstop-Flights with smaller aircraft.
So the era of the 747s and the huge widebody aircraft which began by the inauguration of PAN AM's Boeing 747 at the end of the 1960s, comes to its end in our current days.
In 1976, Pan Am introduced the Boeing 747 SP, a special performance aircraft that extended the range of commercial flights and allowed Pan Am to inaugurate as first airline non-stop flights to the far corners of the world. On May 1, 1976, Pan Am's "Liberty Clipper," one of the new 747 SP's, left New York and travelled east on a record breaking around the world trip. With ninety-six passengers and only two re-fueling stops — at Delhi and Tokyo — the flight arrived back in New York only forty-six hours from departure, besting the previous mark by some fifteen hours. The airline celebrated its fiftieth anniversary in 1977 with another first, this time around the flight covered 26,300 miles in a little more than fifty-four hours.
PAN AM advertising its famour Clipper Class in 1980s)
PAN AM brought the businuss class (PAN AM's Clipper Class "C" still in use with most airlines for their Business Class) and Economy Class (PAN AM's "Y" still in use with most airlines) on regular flights.
A short overview
Pan Am: First in the Industry
1927 – First U.S. airline to operate permanent international air service (Key West, Florida—Havana, Cuba). First U.S. airline to operate land aircraft over water on a regular schedule.1928 – First U.S. airline to develop an airport and airways traffic control system. First U.S. airline to carry emergency life-saving equipment. First U.S. airline to order and purchase aircraft built to its own specifications, with the Sikorsky S-38 flying boat.

1930 – First U.S. airline to offer international air express service.
1931 – First U.S. airline to develop and operate four-engine flying boats—Pan Am's first Clippers, its Sikorsky S-40 fleet.

1932 – First airline to sell all-expense international air tour packages.
1935 – First airline to develop and employ long-range weather forecasting. First airline to operate scheduled transpacific passenger and mail service.

1939 – First airline with scheduled transatlantic mail and passenger services.

1942 – First airline to complete a round-the-world flight. First airline to fly internationally with all-cargo aircraft.
1947 – First airline to operate a scheduled round-the-world service.
1948 – First airline to provide  coach-class service known as Economy Class (ECY) outside the continental U.S.
Pan Am at Juan Trippe's direction 'invented' economy class, but that was right after WWII. The flying boats all had several cabins, some more luxurious than others, some with lay flat seats to sleep in others with berths, but all were considered more than coach or ecy. When PAA invented ECY, so many airlines objected, IATA banned Pan Am from London for almost ten years! Finally all relented and today we have what we have aft the 1st Class curtain!

1949 – Pan Am is the launch customer for Boeing's long-range 377 Stratocruiser.

1958 – Pan Am's Boeing 707 Clipper America flies the first scheduled transatlantic service of a U.S.-built jet.

1962 – First airline to develop a global computer reservations system, named PANAMAC.

1964 – First airline to relay in-flight messages via satellite.

1967 – First airline to make a fully automatic approach and landing in scheduled service.

1970 – First airline to fly the Boeing 747 widebody jet in scheduled service.

1978 – One of the first airlines to introduce a new class of service for business and full-fare economy passengers, called Pan Am's "Clipper Class."
Do you know more? Kindly let us know.
More will be installed here within short time…