PAN AM owned 75 of Boeing 747's over it's history – some of them cargo aircraft…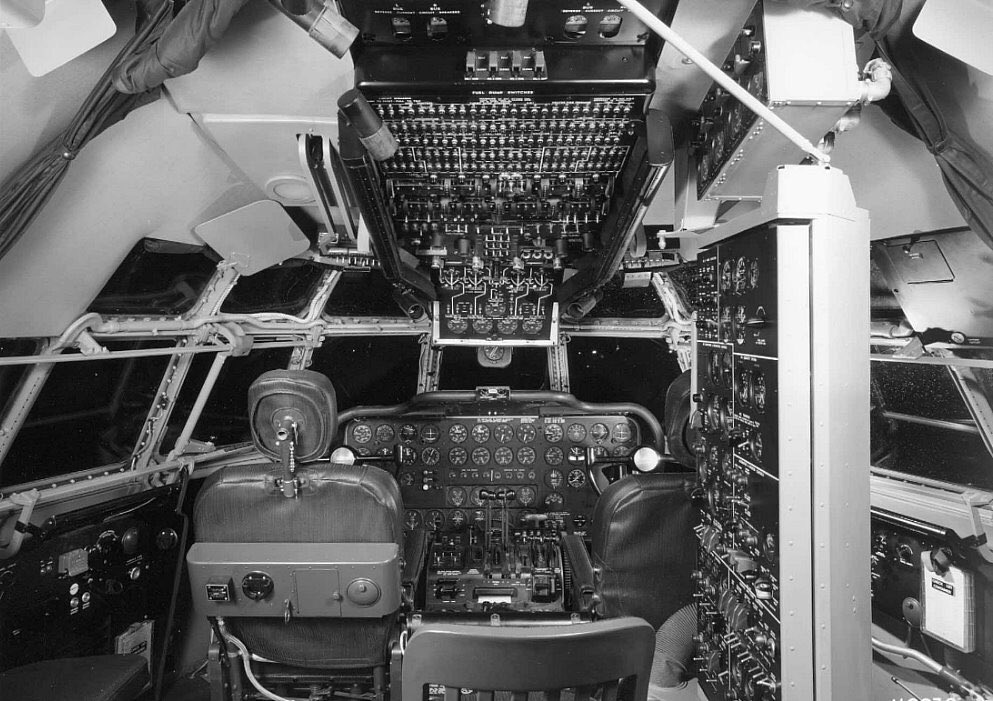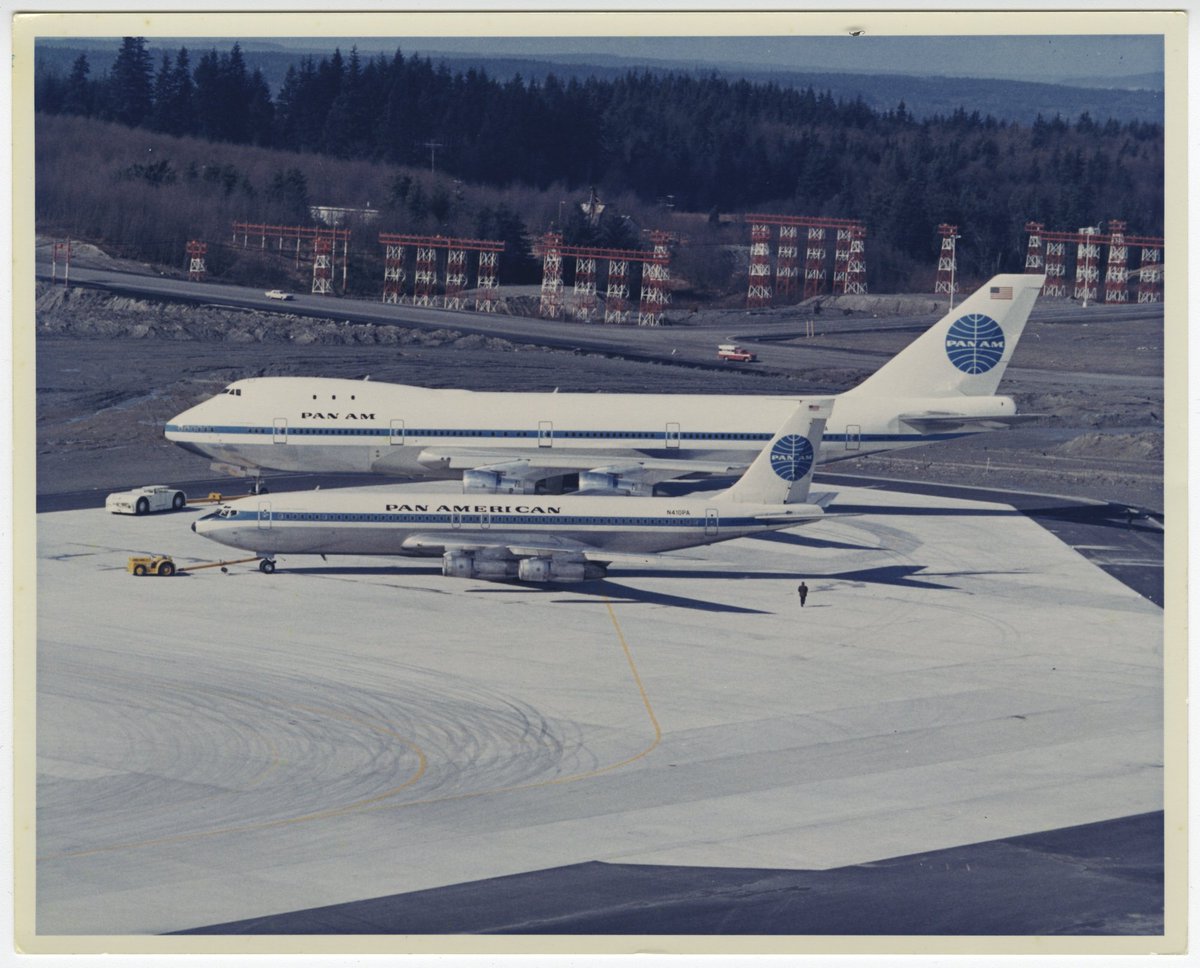 Image from SFO Museum: The Boeing 707 and 747, introduced by Pan Am in 1958 and 1970 respectively, each revolutionized the aviation industry. Check out the difference in sizes of these iconic planes!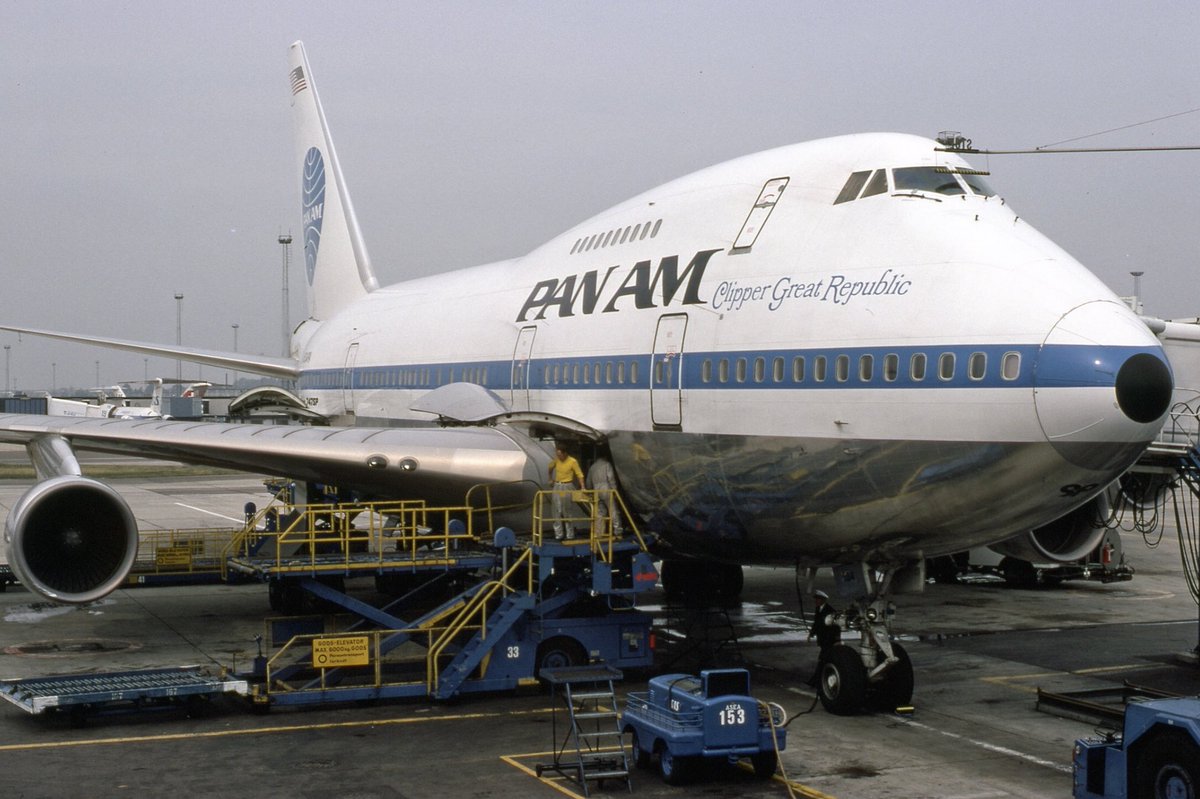 Pan Am's Clipper Great Republic (Courtesy Twitter: flyPanAm).
The 747SP built to specifications for Pan Am's long range routes like JFK to Tokyo.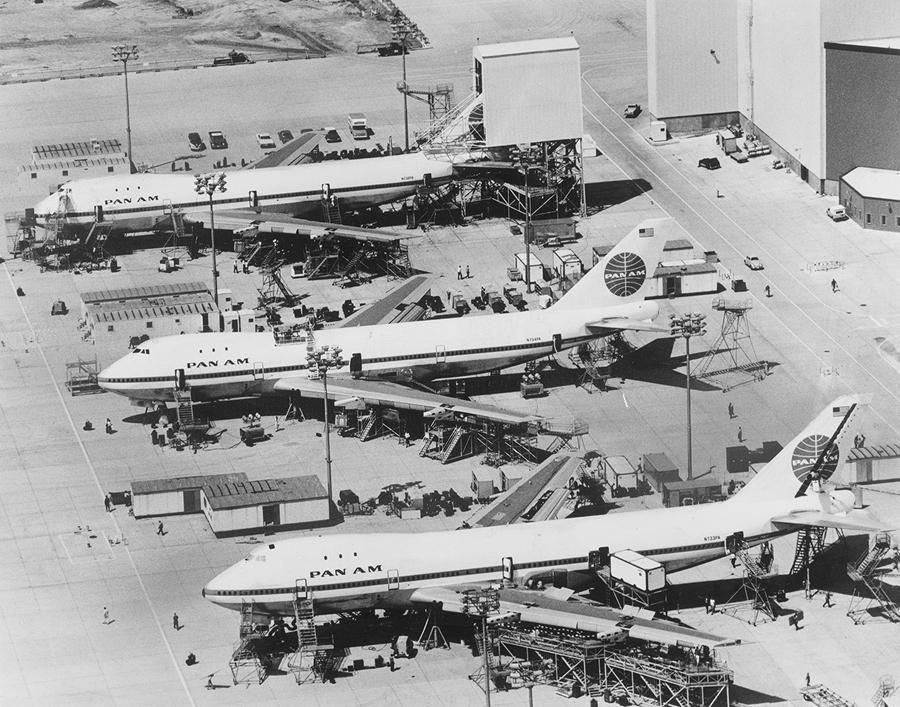 Pan Am's 747s at Boeing's assembly line awaiting its first flight
(Courtesy Twitter: flyPanAm)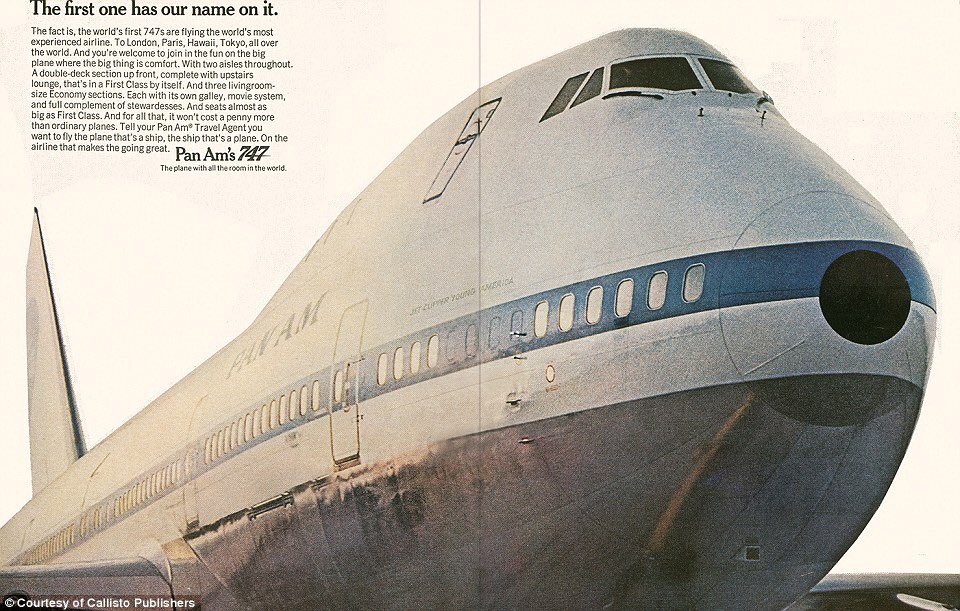 (Courtesy Twitter: flyPanAm)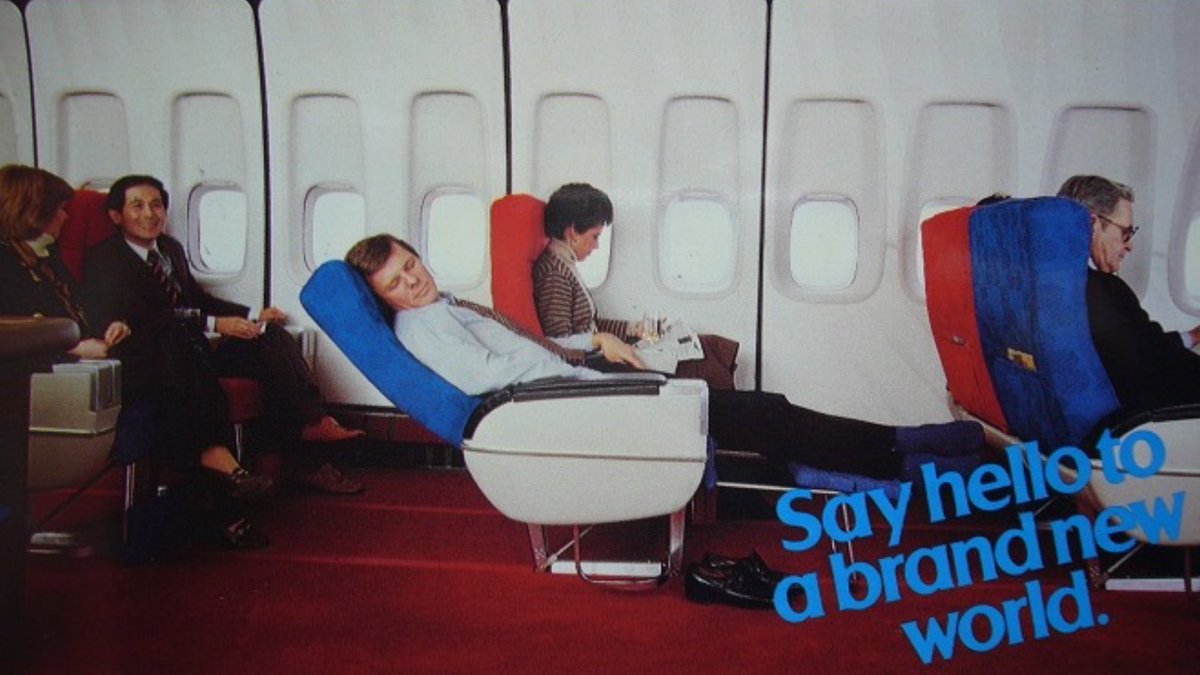 Inaugurating Pan Am's new First Classon board of its 747″ Jumbo Jet"
PAN AM's worldwide introduction folder of the first Boeing 747 (1969)
Courtesy Heinz Müller
The worldwide routes to be served by PAN AM's Boeing 747
Explaining this unique aircraft to the world…
….including the exquisite "Upper Deck Lounge" which celebrities flying PAN AM enjoyed
PAN AM's first seat configuration and interieur design
PAN AM's Luxury First Class, famous for its fine service
including a special "First Class kit" with gold-plated items like cups, pots etc.
which were usually stowed in a case behind the last First Class row
Huge space, wide armchairs, much stowage, closed own overhead compartments
PAN AM's comfortable Economy Class,
firstly inaugurated by PAN AM with more seat distance than any other airline at its time
PAN AM's 747 set also the world's standards for on board entertainment
Amazing exquisite service items for all classes (no plastic pots etc. like nowadays)
PAN AM also set the standards for ticketing, boarding passes and boarding procedures
worlwide (inauguarated its PANAMAC computer system already in 1962)
PAN AM set the standards for check-in procedures and services wordwide
PAN AM itself and for PAN AM new boarding processes including new boarding vehicels and new jet fingers were inaugurated
With PAN AM 747 a new era for cargo transportation was inaugurated:
PAN AM manifested its largest Cargo Clipper fleet of its time worldwide
This also included new loading and weight & balance procedures
What they say about the 747
New emergency procedures and standards by PAN AM for the world's aviation industry
New emergency procedures had to be thought over, proved by the FAA and trained with the PAN AM flight crews for the B-747. The whole aircraft needed to be evacuated within 90 second to get the approval for Boeing from the FAA. PAN AM crews achieved this goal. Then all other airlines following could use the A/C as well.
On board the safety instruction cards where available in many different languages due to PAN AM's worldwide airsystem.
This Database is a work in progress. If you have any additional information, comments or corrections, please click on the "Contact Us" button above and drop us a line – thanks very much.
At least one of PAN AM's 747 turned up in Korea as a restaurant for some years. Here you can get more information about where your 747 landed after you flew them.

PAN AM Clipper Juan T. Trippe, the second built B-747, arriving at New York's JFK airport (1990)
Last Update: 18 September 2014
The following database is organized by the era in which the aircraft was operated, the aircraft type and the registration number. Although it generally follows the time line of Pan Am, it is not intended to be a chronological list of aircraft acquisitions.
Boeing 747
N747PA, Boeing 747-121, Clipper America, notes: C/n 19639, originally delivered to Pan Am on 3 October 1970. Pan Am leased this 747-121 to Air Zaire on 21 November 1973, who returned it off lease on 31 March 1975. This airliner also flew under the titles Clipper Sea Lark and Clipper Juan T. Trippe. In January 1988, the airframe was converted to Boeing 747-121 SCD specifications. Pan Am sold this airliner on 2 July 1990 to the General Electric Capital Corporation, and immediately leased it back. It was returned off lease on 5 December 1991. After being withdrawn from use in 1991, and placed it storage, it was subsequently leased to Kabo Air and Aeroposta. On 10 February 1995, this airliner was bought by the Wilmington Trust Company.
N738PA PAN AM's 747 cockpit (image  at London-Heathrow in 1970)
Clipper Maid of the Seas at New York's JFK airport in 1979
N739PA, Boeing 747-121, cn/serial number: 19646/15, Clipper Maid of the Seas, delivered to PAN AM in February 1970, in service until 1988
Left: B-747-100 safety instruction (1980s)
Instructions: Courtesy of Heinz Müller
N731PA, Boeing 747-121, cn/serial number: 19637/4
delivered to PAN AM in July 1970, to Eastern Air Lines in 1971 as N731PA, leased from Pan Am,
returned to Pan Am in 1971, to Eastern Air Lines in 1971, leased from Pan Am, returned to Pan Am in 1972,
to Tower Air in 1987, leased from Pan Am to Evergreen International Airlines in 1990 as N474EV, converted to freighter withdrawn from use and stored in 1997.
Right: B-747-100 safety instruction (1970s)
N655PA "Clipper Sea Serpent". In service 1971-1991. CRAF converted 06/1985. Originally delivered to Pan Am in 1971 as "Clipper Wild Fire." Name was changed to "Clipper Sea Serpent" in the 1980s. GATX, in 1995, was thinking of putting her back in service as a freighter. Total flight time at retirement: 82,084 hours, 17,528 Cycles No.1 engine only had 5 hours and 2 Cycles on it.
PAN AM's inauguration of Boeing 747 SP for even longer long haul flights
Right: B-747 safety instruction (1970s)
PAN AM's Clipper Cargo Fleet
Pan Am Cargo or Clipper Cargo was its subsidiary cargo airline. Pan Am Clipper Cargo first used propeller aircraft just as the Douglas DC-4.
Image:
Courtesy of Romlee Stoughton
In 1963, Pan Am's all cargo jet service began with the Boeing 707-321C and it dominated Pan Am in air cargo market.
Pan AM Clipper Cargo used to be the world's largest Cargo airline. By the mid-1980s, Flying Tigers operated scheduled cargo service to six continents and served 58 countries. It surpassed PAN AM in 1980 as the world's largest air cargo carrier after acquiring its rival cargo airline Seabord World Airlines on 1 October 1980. In 1982 PAN AM started to sell its PAN AM Clipper Cargo Boeing 747 fleet to Flying Tigers beginning with
N728PA, Boeing 747-212B, Clipper Water Witch,
N729PA, Boeing 747-212B  in 1983
N749FT, Boeing 747-212B in 1983, named Clipper Gem of the Ocean
N730PA, Boeing 747-212B (SCD) in 1983
Clipper Sao Paulo named "Clipper Gem of the Ocean" Jun 1983
named "Clipper Sao Paulo" Aug 1986

cvtd

Boeing 747-212B Jul 1987
leased from Aeronautics Leasing Nov 1989

wfu

and

std

at

MZJ

21. Jan 1992
PAN AM stopped Pan Am Clipper Cargo operations when it had sold ist fleet to Flying Tigers in 1983. Flying Tigers was taken over by Federal Express and became the world's largest Cargo Airline.
As of its end in 1983, Pan Am Clipper Cargo fleet included:
4 Boeing 727s
2 Boeing 747-123F
2 Boeing 747-221F
1 Boeing 747-273C (Leased from World Airways)