List of PAN AM Destinations
USA and the Americas
Pan American's Florida connection began with it's inaugural flight from Key West to Havana in 1927. President Juan T. Trippe, 28 years of age,  began with two Miami airports for his planes; one for seaplanes at Dinner Key and the other at today's Miami International Airport.
Thus, Miami became the hub of Pan Am's Caribbean and Latin American routes.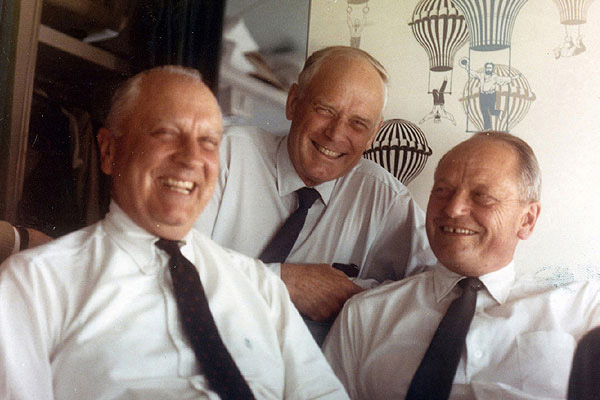 Juan T. Trippe, Charles Lindbergh, Harold Gray
(courtesy of PAN AM Historical Foundation)
Like Miami also many other landing fields and seaports Juan T. Trippe and Charles Lindbergh, PAN AM's worldwide most famous pilot, chose and were planned and inaugu- rated first for Pan American, later became airports for other air carriers as well, some even up to now.
Here Pan American, later PAN AM World Airways, started its operations and unique career as aviation pioneer.
Please know more here...
PAN AM Express USA
PAN AM started local feeder flights in 1988 and called its subsidiary PAN AM Express which operated within the USA and abroad at Berlin's Tegel (TXL) airport to more than 30 destinations with great success using smaller aircraft ATR-42s with a number of 12 aircraft.
Trans World Airlines (TWA) took over PAN AM Express in 1991 and immediately shut down PAN AM Express' Berlin operations then. PAN AM Express operated then as TWE.
Know more about PAN AM Express in the USA:
about the New York services here...
about the Miami services here...
PAN AM's last Flight Schedule
PAN AM's last Flight Schedule (1991)
for its re-organised South America services with B-747
PAN AM's last route map
 PAN AM's last route map (1991)
with focus on air services for the Americas
PAN AM's WorldPort, base & hub:
Legendary model role for other airports worldwide
Learn more about its history here…
PAN AM Boeing 727-200 (New York, 1987)
at LaGuardia airport (LGA)
The PAN AM Shuttle history: More here…
PAN AM Mock-up at Miami base:
Courtesy PAN AM Flight Academy
Know more about its history here...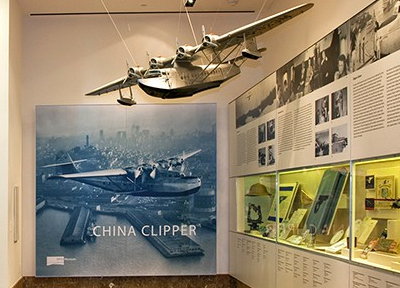 The Louis A. Turpen Aviation Library & Museum at San Francisco International Airport is located in an architectural adaptation of the airport's original 1930's passenger lobby. Now in the new International Terminal Building, this outstanding collection focuses on air transport with an emphasis on the West Coast and the Pacific region. Exhibitions, research services, and educational programs are offered to the public free of charge. Exhibits change frequently, and Pan American Airways history plays an integral part in the museum's focus.
United States
North America
Mexico
Caribbean
Cayman Islands (United Kingdom)
Cuba
Pan Am one of earliest advertising for passenger travel to Cuba in 1930s.
Guadeloupe (France)
Netherlands Antilles (Netherlands)
Turks and Caicos Islands (United Kingdom)
U.S. Virgin Islands (United States)
Central America
South America
Argentina
Bolivia
Brazil
Chile
Colombia
Ecuador
French Guiana
Guyana
Paraguay
Peru
Suriname
Uruguay
Venezuela